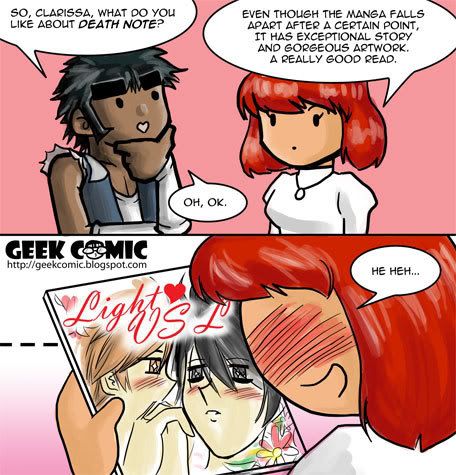 Anime World Order Podcast Show #39 - Death Note, D. Gray Man, AWA, and That Show Nobody Else Watched
Since we have another geek on board now, I can go wild! PCGamer will be there as a counterbalance as I will be solely concentreted on the one geek section that I love best: Anime and Manga. And what would be a good way to indulge myself by doing doujinshi for the only anime podcast I listen to -
Anime World Order Podcast
!
By the way, the doujinshi is a
staple
. For my section, I'll be doing a fan comic for each new episode of AWO from now on. The people in today's strip are 2 out of 3 of the host for AWO. Daryl Surat love
Hokuto no Ken
. Clarissa got her name from
Lensman
's nurse but I couldn't find her character design from 1984's
SF New Age Lensman
so I think
Clarisse
from
Lupin III: Castle of Cagliostro
might be a pretty close presentation...
At the time of posting this, AWO has already released a new Bonus episode. So, I guess it'll be another update real soon. See you then!